Two generations of popular painters of the Lake Atitlan
By Gaëlle Sévenier
November 2002, Entre Mundos, Guatemala

Walking around Lake Atitlan, one cannot refrain from becoming enamored by the beautiful paintings representing the indigenous costumes and colorful landscapes that can be found in the innumerous little art galleries and purchased for little more than a few hundred Quetzales. The Sesay family is one the most renowned of artesian families, adding rich history to the Guatemalan popular art.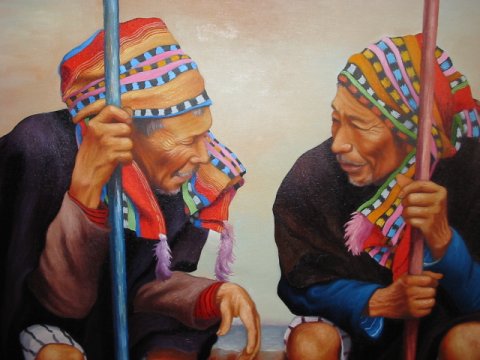 Juan Francisco Sisay's painting
juanfrasisay@yahoo.com (Santiago Atitlan, Guatemala)
Juan Sisay is recognized as the first 20th century Guatemalan painter of Lake Atitlan. Born in 1921 of an extremely poor, indigenous family, Juan Sisay was destine to continue the work of his ancestors: caring, by foot, clay portage jars from Lake Atitlan to Antigua, as there was no transportation at the time. During his spare time, Juan used whatever materials he could find to paint. His continued to sharpen his skills under these difficult conditions, until one day, a foreigner who was visiting the lake recognized his talent and offered him a box of oil paint. So began his career as a true artist. In the nineteen-seventies, Juan Sisay became internationally renowned, initially showing his art throughout Central America, followed by expositions in France, Italy, Spain and the United States.
Juan Francisco Sisay is the grandson of the famous Juan Sisay. Raised by his grandfather, Juan Francisco owes his world respected grandfather his earliest knowledge and skills. When Juan Francisco was only twelve years old his grandfather was tragically killed. "It was a Friday night" he explains, "my grandfather was coming back from a church reunion. I was inside my house. All of a sudden, we heard five, six shots. When we went outside to see what happened, we found the dead body laying on the street." Nobody knows for sure who murdered the great artist. Whether it was the army or the guerrillas, his grandson suspects that it was an act of jealousy of the huge influence Juan Sisay had upon his community. By becoming an internationally respected and revered painter, he had succeeded in showing the world the true beauty of the Guatemalan indigenous art.

Juan Francisco followed in the footsteps of his grandfather, capturing in his works the daily lives of indigenous people around Lake Atitlan. Today, there are more than 15 painters following the technique and style of Juan Sisay, called "pintura popular" (popular painting). Though none has attended any art school, Juan Sisay has inspired them all. Before his murder, Juan Sissay taught his two sons and two students the skills of his unique vision.
Today, with the supplement of odd jobs that he and his wife and can find, Juan Francisco Sisay manages to earn from 1500 to 2000 Quetzales per months as a painter. Juan Francisco must sell his painting immediately after completion, in order to afford the paint and frame to begin his next project. Since financial constraints don't allow Juan Francisco the luxury of displaying any of his works in his home, individuals rarely buy directly from him. Instead he is forced sells his drawings at a very cheap price to small art galleries such as "Galeria Arte Atitlan" in Panajachel and two others, the "Galeria Chavez" galleries in Santiago de Atitlan, which take a 30% commission.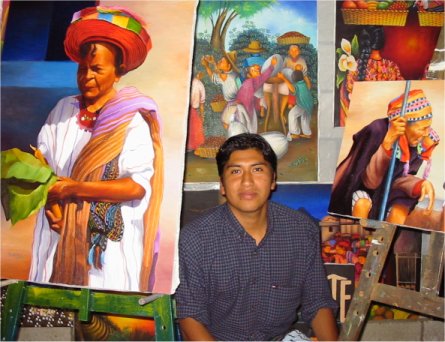 Juan Francisco Sisay, grand son of Juan Sisay