Check time differences
your local time at
JUNE 2004

FIRE Coverage of Cairo + 10
June 24 – July 2, 2004
in Puerto Rico

Live broadcast (in Spanish)
June 25-26, 9 am (EST)

10-year evaluation of the UN World Conference on Population and Development (ICPD)

Latin American and Caribbean Women's Network (RSMALC) will hold a Women's Forum and celebrate the Network's 20-year anniversary at Cairo+10.

(read full article)

Indai Sajor & Alda Facio on Radio Feminista-FIRE
Indai Sajor, of the Philippines, academic and activist for women's human rights. She has been working to visibilize the relation between militarism and sexual slavery, and was a main organizer of the War Crimes Tribunals on Military Sexual Slavery in Asia (Comfort Women´s Tribunal), and in actions to demand an end to impunity for those responsible for these crimes.
Ann-Lousse Haak, minister of the Ecumenical Church, political activist, and feminist, who works for lesbian rights inside the ecclesiastical hierarchy.
Pamela Richard, is a specialist in land planning and the environment. She is part of the group Permanent Action for Peace.
Sponsors of Feminist International Radio Endeavour (FIRE)
Indigenous Survivors of Massacres in Colombia Struggle to Survive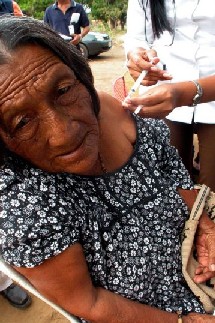 Photo by Gaëlle Sévenier
A Wayuu indigenous village and also a group of farmers were massacred recently in two attacks near the Venezuelan border in Colombia in the escalating violence of that country's ongoing civil war.......(continued)...
India's challenge to Brazil at the World Social Forum.
---
Update on UN Ad Hoc Committee negotiations on the International Convention to Promote and Protect the Rights and Dignity of Persons with Disabilities...(continued)
A space devoted to activism, opportunities, rights and issues important to women worldwide with all types of disabilities...